Communion is such an important element in the Christian faith, but is it enough to partake just at church?
Unfortunately, communion has become a symbol of religious tradition; as opposed to a constant reminder of the foundation of our faith.
Communion
Think about it, our faith as a believer is based on the history and truth of the resurrection. Christ's body being beaten and torn to shreds for our; well-being. For our healing in our spirit, soul, and body.
His blood was shed so that we may have the forgiveness of sin and the FREE gift of eternal life!
WOW just thinking about that makes the hair stand up on our arms. Yet, so many of us take that lightly and can barely make it to church to take communion.
Our Revelation
This became real to us when we were seeking God's face for the sake of our survival literally! We needed God financially and physically. And waiting to take communion at church was too long of a wait!
One day in our quiet time with God we read 1 Corinthians 11:23-26 (The Message).
"Let me go over with you again exactly what goes on in the Lord's Supper and why it is so centrally important. I received my instructions from the Master himself and passed them on to you. The Master, Jesus, on the night of his betrayal, took bread. Having given thanks, he broke it and said,
This is my body, broken for you. Do this to remember me. After supper, he did the same thing with the cup: This cup is my blood, my new covenant with you. Each time you drink this cup, remember me.
What you must solemnly realize is that every time you eat this bread and every time you drink this cup, you reenact in your words and actions the death of the Master. You will be drawn back to this meal again and again until the Master returns. You must never let familiarity breed contempt."
At that moment we saw this scripture differently. We realized that it's not enough to acknowledge what Christ did for us at the cross just on Easter, or once a month at church. No!
We must purpose to remember what Christ did for us on a regular basis.
Bringing Communion To Life
Not too long after we had that revelation, we came across this book at a local Christian bookstore; The Table That Speaks-Bringing Communion To Life.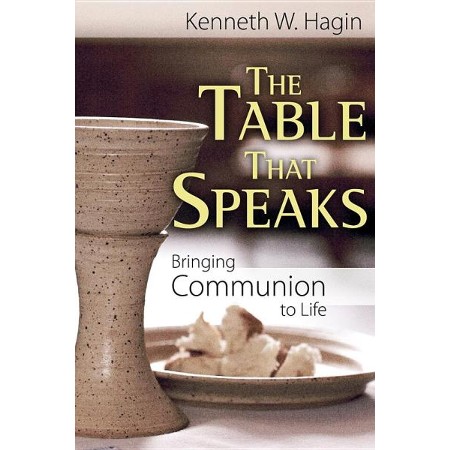 The Table That Speaks
Talk about God confirming what was resonating in our Spirit! As we read this book, our heart was more convicted to remind ourselves of what Christ did for us regularly.
So we went to a pottery store and painted a plate and cup, specifically for our family to take communion at home.
We placed this set on our table, so we could pray together, confess our sins, and take in communion as a family.
And when we started to do this more often, we became aware of God's grace and our hopelessness without Him.
God's Grace
When we took communion, we were training our minds to become more consciously aware of what Christ did for us. Recognizing the grace, He extended to us even when we didn't feel worthy.
This awareness made us more sensitive to extend that same grace to others.
Hopelessness Without Christ
With all that's happening in the world today, one can feel quite hopeless. But because of Jesus's death, burial and resurrection, we have hope! Despite all that happens to us, we know that we are never without hope.
Our hope is in the One who conquered death! And this is embedded in our hearts and minds, every time we take communion.
In The End
Our mentors used to tell us we have to renew our mind as often as we comb our hair. Because the enemy is out daily trying to steal our joy, our hope and our peace!
If this is something that resonates with your heart, then we would encourage you to seek God as to how your family can take communion more often.
When we take the time to remind ourselves of what Christ has done, it allows us to remain in a place of gratitude for our salvation; instead of taking God's grace for granted.
PIN FOR LATER
This post has been shared on Grace and Truth a weekly Christian link up.
~ André and Timberley Gray