Do you shy away from inviting people into your home? Well, 'tis the season for simple hospitality ideas!
I didn't like inviting people to my house, because I felt like I didn't have anything to offer. Before meeting Andre my place was small, funds were limited, and I wasn't creative in how I could entertain in my home.
However, as I grew in my relationship with Christ, I realized it wasn't about what I can do or give, it was more about what Christ had to offer to those I was in fellowship with.
Hospitality Begins With The Heart
The Bible tells us to be mindful to be hospitable, especially to the Body of Christ. And as I began to mediate on scripture, I realized hospitality wasn't a problem because of what I thought I couldn't do. Hospitality was a problem for me, because my heart wasn't in the right place.
Romans 12:13 in the New Living Translation says: When God's people are in need, be ready to help them. Always be eager to practice hospitality.
I like the way the Amplified Classic Edition words Romans 12:13. It says; "Contribute to the needs of God's people [sharing in the necessities of the saints]; pursue the practice of hospitality."
You see, we are to PURSUE hospitality; not shy away from it. We are to go after it; looking for ways to be hospitable one to another.
What Jesus put on the inside of us, is not just for us. It's to be shared with others, opening our home to; love, encourage, and serve our brothers and sisters. Hospitality is what we do!
Practice hospitality to one another (those of the household of faith). [Be hospitable, be a lover of strangers, with brotherly affection for the unknown guests, the foreigners, the poor, and all others who come your way who are of Christ's body.] And [in each instance] do it ungrudgingly (cordially and graciously, without complaining but as representing Him).
~ 1 Peter 4: 9 (AMPC)
When we change our perspective and heart about hospitality, it will no longer be perceived as complicated. Hospitality will become a characteristic of who we are in Christ.
Simple Hospitality Ideas
Honestly, the hardest part of hospitality is changing our heart and mind towards serving others. Letting our guard down and welcoming people into our homes. And once we get our hearts, and minds wrapped around that, it really does become simple to do.
When I finally understood what hospitality was all about, I looked for simple ways to honor God when inviting guest to my home.
The Bible tells us in 1 Corinthians 9 that God is unwilling to abandon a cheerful giver whose heart is in their giving. So when there is a willing heart, God will make a way.
When I stepped out in faith to invite people to my home, I focused on 3 simple hospitality principles.
Hospitality Ideas – Keep It Simple
Sometimes we make things harder than what it is. Have you ever felt lonely, or upset and just wanted to talk to a friend? Many people aren't looking for you to provide them a 5-star hotel experience, they just want fellowship and someone to talk to.
If you think, you don't have anything to offer, think again. The most valuable gift any of us can give is our time. By setting aside time to invite someone over and give them your undivided attention, will do more for them than you know.
There were times when I would meet with my mentor and all we did was sit around her kitchen counter talking; while her children were in the school room doing homework. I always left feeling encouraged, and I was grateful that she took time out of her schedule to pour into me.
Now I find myself being sensitive to others. When I hear of a need, I am a lot quicker in my response to meet them somewhere or invite them over.
Hospitality Ideas – Offer Something To Eat Or Drink
Who turns down a cup of coffee or tea? You don't have to provide a 3-course meal, just sitting down with a cup of coffee will do! And if you don't have coffee or tea, a glass of water with a slice of lemon, cucumber, etc. will look fancy and totally affordable.
When I first learned to coupon, I stocked up on cake and brownie mixes, so that they were always on hand. You never know when a girlfriend needs some comfort food!
Well, now that we eat a plant-based diet, I have to come up with another plan. (That's another blog for another time.)
I even stock up on Kleenex boxes, because many times when we get together, especially to encourage one another, somebody is always crying. Come on ladies, you know how we do!
Having a Kleenex box readily available is being hospitable and caring for the needs of your guest. When you have; snacks, beverages, or even Kleenex boxes on hand, you will always be ready for company.
And when you work your way up to it, don't be afraid to invite someone over for a meal at the table. There is so much power in the gathering at the table. But don't put pressure on yourself start with baby steps.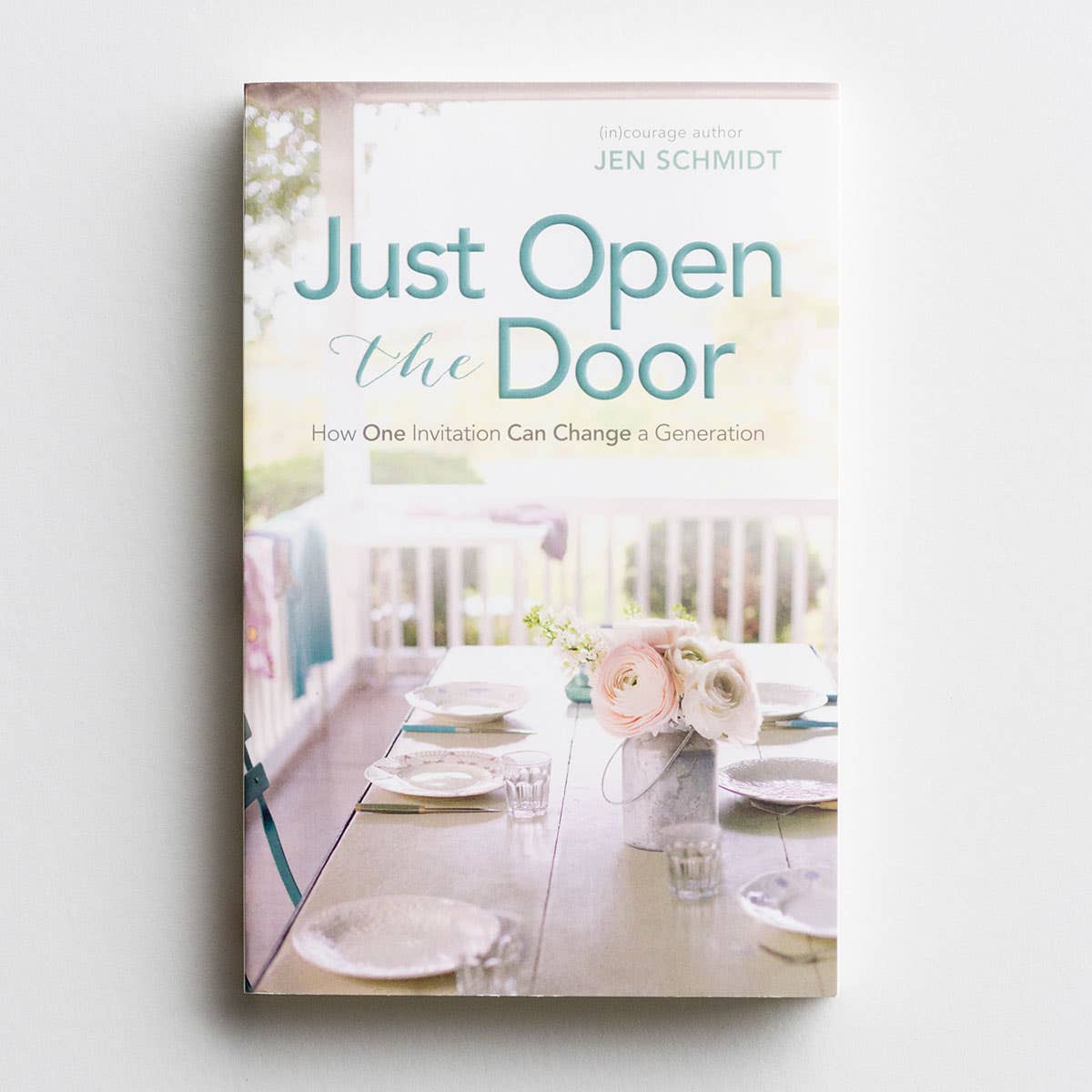 Jen Schmidt – Just Open the Door
Hospitality Ideas – Keep Bathrooms, Kitchen, and Sitting Areas Clean
Now you're probably wondering what does this have to do with hospitality. Everything!
If your guest doesn't feel comfortable sitting on your toilet, or eating from your kitchen, they will hesitate, or avoid coming over all together.
Now I'm not trying to be harsh but let's be real ladies. Some of us have not had a house cleaning anointing.
If we avoid inviting people over because our house isn't cleaned, guess what? You'll never have a clean house.
That is NOT who we are in Christ!
1 Corinthians 14:40 in The King James Version, says: Let all things be done decently and in order.
That means our homes should be orderly so that we can feel comfortable entertaining guests, and they will feel comfortable fellowshipping in our environment.
Part of being hospitable isn't only what you do, it's about the environment you create. Click To Tweet
We purpose for peace in our home, not just for guest but for ourselves. Our home is our sanctuary, a place where we gather after a long day of work or school. And where family memories are created.
However, we also open our home so that those who gather with us will feel God's presence and love. It's hard to feel peace when everything is messy.
In The End
Making your home comfortable can be done very easily. By putting on some worship music, lighting a candle, or sitting down at the kitchen table with a cup of coffee or lemon water; it will prepare everyone's heart for a deeper level of intimacy during fellowship.
So, what prevents you from opening your home for hospitality? Maybe we can help each other find ways to open our homes to others who are in need of knowing our Lord and Savior.
~ Timberley Gray